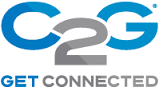 Complete solution for extending HDMI digital audio/video and VGA video plus Stereo Audio signals up to 230 feet over a single Cat5 cable utilizing HDBaseT technology.

The HDMI over Cat5 kit is a complete solution for extending HDMI audio/video signals over a single Cat5/Cat5e/Cat6 unshielded twisted pair cable up to 300ft at a 1080p resolution. This solution is compatible with any operating system and is truly plug and play with no drivers or software required. This solution utilizes TruChoice™ power, which allows power to be supplied over the Cat5 cable to both the transmitter and receiver from a single power adapter placed at either the transmitter or the receiver end of the solution. HDBaseT technology supports HDCP and allows the Extended Display Identification Data (EDID) signals, i.e. communication of the display's capabilities, to pass through the extension solution ensuring that the content from the source is sent at the optimal resolution for the display. Built-in power surge protection and high ground loop immunity ensure high performance signal extension.

One of the only solutions on the market designed and engineered for compatibility with interactive whiteboard (IWB) models*, the new USB 1.1 Superbooster Extender for Interactive Whiteboards is perfect for extending 1.1 signals up to 40m (131ft) to support interactive whiteboards.

The 2-Port HDMI Splitter is the perfect solution for connecting a Blu-ray player, HDTV receiver, DVD player or other audio/video device to two HDMI displays. This splitter supports HDMI features including 4k resolution, 1080p, 3D, Deep Color, x.v. color™, high speed refresh rates and lossless multichannel surround sound. It is HDCP-compliant for full playback of high definition content. This splitter is designed to support 480i, 480p, 720p, 1080i, 1080p and 4k resolutions. The splitter is cascadable up to 3 layers to distribute the source signal to as many as 8 displays.



Add the finishing touch to your installation with our full line of wallplates, inserts, and keystones; Decora and Classic styling also available.